Basic Workbench / ESD Workbench
Model HD
Heavy Duty Workbench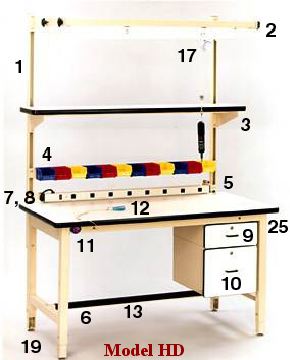 HD Bench 5.000 Lbs!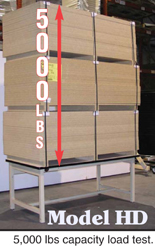 "The most workstation for your money." The aesthetics of the Model HD combined with the heavy duty, independent four leg design and the almost infinite selection of modular accessories have made this model the workbench of choice for production and lab areas at almost every Fortune 500 company in America. With an unbeatable price vs. quality, you can not go wrong with our most popular model. Available as an ESD bench by adding optional ESD ( electrostatic dissipative ) laminate surface.
Heavy 16 gage, 2" Square tube legs with high quality paint finish.
T-Mold protection around the perimeter of its plastic laminate tops. (Matches T-Mold, laminate face modular drawers to protect operators legs and clothing.) ESD laminate make this
Optional casters are available to mobilize all basic workstations.
Model HD can be made to accept side uprights for mounting accessories to either side. Our 96" long stations include a lower upright support. Load Capacity is 5,000 lbs.
Standard top Work Surfaces include: Plastic laminate, ESD laminate, and solid maple. Special orders include: Stainless Steel, Epoxy Resin, Polypropylene, etc.

Note: The illustration includes Optional Accessories: #1, 2, 3, 4, 5, 6, 7, 8, 9, 10, 11, 12, 13, 17,19, and 25. More items are present in our Newest Catalog. Get your copy today.
Standard height is 30." Additional cost per station for other, special order heights: Change last two numbers on stock number to the special height desired. Be sure to add the Top Color and Frame Color to your ordered item.
For example, to order a 72"L x 36"W x 35 inch height, ESD top in Dove Gray, Black Frame Paint The item would be: HD723635ESD, SG248, F63B12
Get A Rise Out of Your MODEL HD Note: Order our HDLE-6 Leg Extension Kit for your Model HD Station. Allows up to 6 inches adjustment, in 1 inch increments. Bench is moved up on the extension and bolted through frame holes. Stock No. HDLE-6, Weight 4 lbs., call for cost. The Leg Extensions are an IN STOCK ITEM.

Make your workbench mobile
Visit our caster page to see your choices
Model HD
48"L x 30"W x 30" H
| Top Work Surface | Stock # | Wt. | In Stock? |
| --- | --- | --- | --- |
| Plastic Laminate | HD483030PL | 100 | No |
| ESD Laminate, Conductive | HD483030ESD | 100 | No |
| Solid Maple, 1.75" | HD483030SM | 124 | No |
48"L x 36"W x 30" H
| Top Work Surface | Stock # | Wt. | In Stock? |
| --- | --- | --- | --- |
| Plastic Laminate | HD483630PL | 108 | No |
| ESD Laminate, Conductive | HD483630ESD | 108 | No |
| Solid Maple, 1.75" | HD483630SM | 137 | No |
60"L x 30"W x 30" H
| Top Work Surface | Stock # | Wt. | In Stock? |
| --- | --- | --- | --- |
| Plastic Laminate | HD603030P | 115 | Yes |
| ESD Laminate, Conductive | HD603030C | 115 | Yes |
| Solid Maple, 1.75" | HD603030M | 145 | Yes |
60"L x 36"W x 30" H
| Top Work Surface | Stock # | Wt. | In Stock? |
| --- | --- | --- | --- |
| Plastic Laminate | HD603630P | 125 | Yes |
| ESD Laminate, Conductive | HD603630C | 125 | Yes |
| Solid Maple, 1.75" | HD603630M | 162 | Yes |
72"L x 30"W x 30" H
| Top Work Surface | Stock # | Wt. | In Stock? |
| --- | --- | --- | --- |
| Plastic Laminate | HD723030P | 130 | Yes |
| ESD Laminate, Conductive | HD723030C | 130 | Yes |
| Solid Maple, 1.75" | HD723030M | 167 | Yes |
72"L x 36"W x 30" H
| Top Work Surface | Stock # | Wt. | In Stock? |
| --- | --- | --- | --- |
| Plastic Laminate | HD723630P | 140 | Yes |
| ESD Laminate, Conductive | HD723630C | 140 | Yes |
| Solid Maple, 1.75" | HD723630M | 184 | Yes |
96"L x 30"W x 30" H
| Top Work Surface | Stock # | Wt. | In Stock? |
| --- | --- | --- | --- |
| Plastic Laminate | HD963030PL | 160 | No |
| ESD Laminate, Conductive | HD963030ESD | 160 | No |
| Solid Maple, 1.75" | HD963030SM | 209 | No |
96"L x 36"W x 30" H
| Top Work Surface | Stock # | Wt. | In Stock? |
| --- | --- | --- | --- |
| Plastic Laminate | HD963630PL | 170 | No |
| ESD Laminate, Conductive | HD963630ESD | 170 | No |
| Solid Maple, 1.75" | HD963630SM | 229 | No |