L.A.N. Workstations
Model LNFL
Click To Review
Available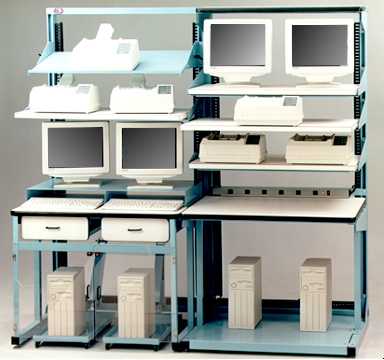 Proline offers several models of LAN workbenches. These stations are designed to meet all your LAN needs. Incorporating our modular design these stations are flexible, ergonomic and affordable. The LNFL Models are built on our Flex-Line series. Available in 24" 30" and 48" lengths. These units are easily bolted together to allow you to configure the ideal LAN station for your application. Load Capacity is 750 lbs. The Model LNFL Workstations include:
An Open Frame with 80" Overall Height,
A 30" Deep Work Surface that Adjusts from 30" to 36" and,
Two (2) Horizontal and Vertical Leg Supports.
You add only the accessories needed to meet your requirement and customize the workstation to your computer equipment. Buy just what you need, but, rest assured, our selection will fit your station perfectly.
Model LNFL
24"L x 30"W x 80"H
| Top Work Surface | Stock # | Wt. | In Stock? |
| --- | --- | --- | --- |
| Plastic Laminate | LNFL243080PL | 120 | No |
| ESD Laminate, Conductive | LNFL243080ESD | 120 | No |
30"L x 30"W x 80"H
| Top Work Surface | Stock # | Wt. | In Stock? |
| --- | --- | --- | --- |
| Plastic Laminate | LNFL303080PL | 128 | No |
| ESD Laminate, Conductive | LNFL303080ESD | 128 | No |
48"L x 30"W x 80"H
| Top Work Surface | Stock # | Wt. | In Stock? |
| --- | --- | --- | --- |
| Plastic Laminate | LNFL483080PL | 138 | No |
| ESD Laminate, Conductive | LNFL483080ESD | 138 | No |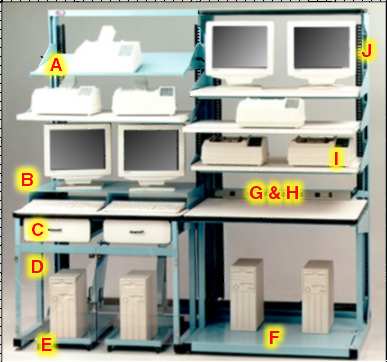 L.A.N. Accessories & Options
24"L (Flex-Line) Stations
| No. | Description | Size | Stock# | Wt. |
| --- | --- | --- | --- | --- |
| A | Adjustable Metal Shelf, Tilts | 24"L x 24"W | AMS2424FL | 26 |
| B | Monitor Riser Shelf, (Single) | 24"L x 20"W | MSR2420 | 32 |
| C | Modular Drawer, 6" | 6" | MDS6 | 26 |
| D | Plexiglas Doors, Protect CPU | - | PLGD24 | 23 |
| E | Pull Out CPU Trays, w/ Articulated Wire Management | - | PCPTF | 32 |
| F | Lower Steel Shelf & Braces | 24"L x 30"D | LNLS24FL | 24 |
| G | Electric Supply Mount Rail | - | ESMR24FL | 1.8 |
| H | 6 Outlet Electrical Supply | - | ES12 | 1.8 |
| I | Pull Out Printer Shelf | 24"L x 20"D | POPS2420F | 20 |
| J | 1.5" X 1.5" Wire Mgmt. Sold in 6 Foot Sections. L & Loc. | Total/6 ft. sect. | WMS1.5 | 3 |
30"L (Flex-Line) Stations
| No. | Description | Size | Stock# | Wt. |
| --- | --- | --- | --- | --- |
| A | Adjustable Metal Shelf, Tilts | 30"L x 24"W | AMS3024FL | 29 |
| B | Monitor Riser Shelf, (Single) | 30"L x 20"W | MSR3020 | 38 |
| C | Modular Drawer, 6" | 6" | MDS6 | 26 |
| D | Plexiglas Doors, Protect CPU | - | PLGD30 | 23 |
| E | Pull Out CPU Trays, w/ Articulated Wire Management | - | PCPTF | 32 |
| F | Lower Steel Shelf & Braces | 30"L x 30"D | LNLS30FL | 27 |
| G | Electric Supply Mount Rail | - | ESMR30FL | 2.8 |
| H | 6 Outlet Electrical Supply | - | ES12 | 1.8 |
| I | Pull Out Printer Shelf | 30"L x 20"D | POPS3020F | 24 |
| J | 1.5" X 1.5" Wire Mgmt. Sold in 6 Foot Sections. L & Loc. | Total/6 ft. sect. | WMS1.5 | 3 |
48"L (Flex-Line) Stations
| No. | Description | Size | Stock# | Wt. |
| --- | --- | --- | --- | --- |
| A | Adjustable Metal Shelf, Tilts | 48"L x 24"W | AMS4824FL | 32 |
| B | Monitor Riser Shelf, (double) | 48"L x 20"W | MSR4820 | 43 |
| C | Modular Drawer, 6" | 6" | MDS6 | 26 |
| D | Plexiglas Doors, Protect CPU | - | PLGD48 | 23 |
| E | Pull Out CPU Trays, w/ Articulated Wire Management | - | PCPTF | 32 |
| F | Lower Steel Shelf & Braces | 48"L x 30"D | LNLS48FL | 30 |
| G | Electric Supply Mount Rail | - | ESMR48FL | 3.3 |
| H | 6 Outlet Electrical Supply | - | ES36 | 3.5 |
| I | Pull Out Printer Shelf | 48"L x 20"D | POPS4820F | 28 |
| J | 1.5" X 1.5" Wire Mgmt. Sold in 6 Foot Sections. L & Loc. | Total/6 ft. sect. | WMS1.5 | 3 |